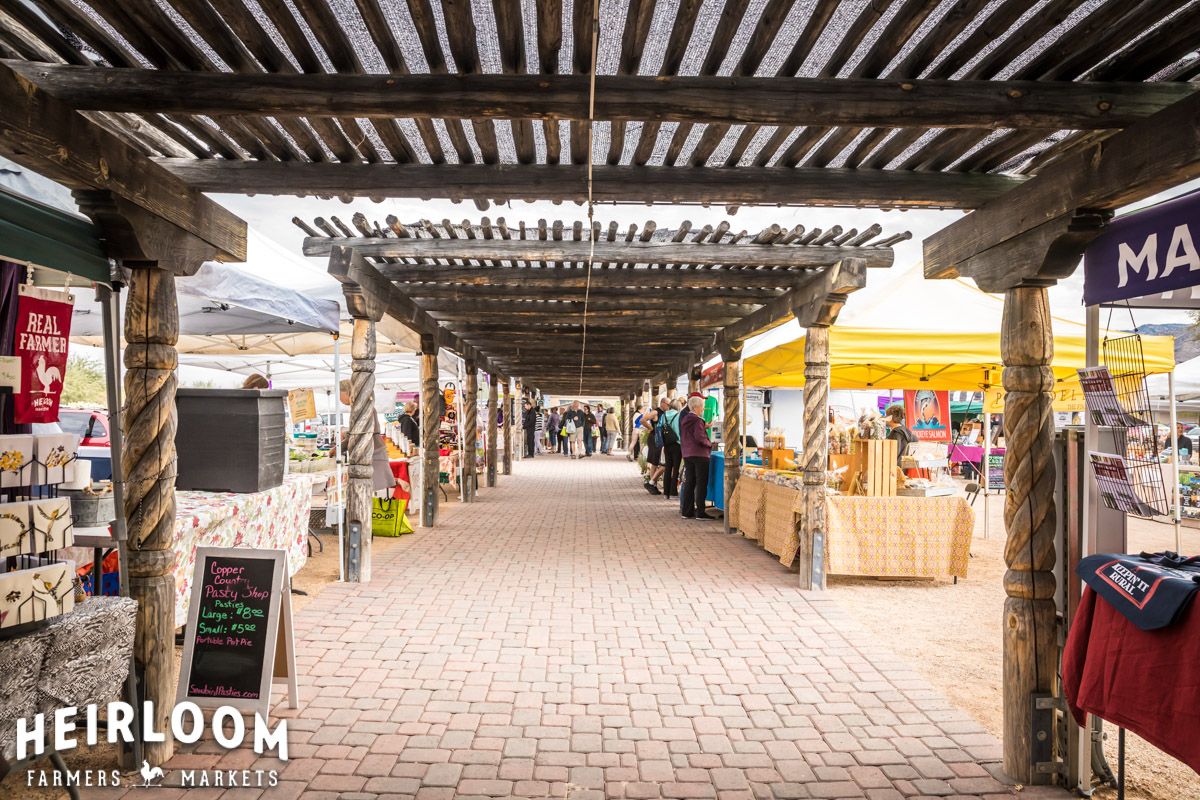 Nestled at the base of the Catalina Mountains' Pusch Ridge along the Northwest Oracle Road corridor is Steam Pump Ranch where the Oro Valley Farmers Market sets up every Saturday morning in the early dawn hours. Located at 10901 North Oracle Rd. in Oro Valley just north of the Home Depot Retail Center, the Market is open 52 weeks a year with winter hours going from 9 AM to 1 PM October through April and 8 AM to 12 Noon May through September.
Since 2004, the Oro Valley Farmers Market has become a meaningful community event in support of local farms, ranches and small food purveyors.  If you are looking for "fresh" look no further than the Heirloom Farmers Market.  You will even find some unusual faire that you certainly will not usually find in a supermarket. Does summer squash, lavender honey, and green chiles sound good? The Market has dozens of vendor stalls and hundreds of customers each week looking for just the right thing to complement their meals.
Friends, families and neighbors stroll the grounds where historic preservation of the buildings, farming artifacts and heritage gardens are showcased. The Oro Valley Farmers Market has a wonderful, friendly, and relaxed atmosphere while offering the seasonal bounty from the surrounding farming communities as well as supporting special events at the Ranch.  Visitors will find local fruits and vegetables as well as ranch-fed beef, pork and farm fresh eggs carrying on the ranch's agricultural traditions.
Second Saturdays at Steam Pump Ranch has fun-filled activities for the whole family. The Steam Pump Ranch hosts cultural presentations and activities for children.  And best of All…it's FREE!
Heirloom Farmer's Market Website:
https://www.heirloomfm.org/markets/oro-valley/
Stump Pump Ranch's Website:
https://www.orovalleyaz.gov/parksandrec/historic-and-cultural-resources/steam-pump-ranch