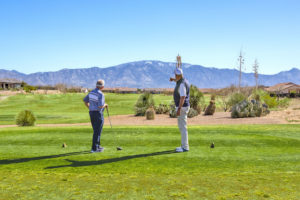 Updates
May begins with hot temperatures after a truly short spring. As we are moving into hotter weather, do not forget to take extra hydration with you to the golf course. Pay special attention to hydration options that offer replacement minerals, as water alone is not enough! We stock Gatorade and a no-sugar electrolyte option called LMNT for those watching their sugar intake. Stay in tune with the Forecaddie to keep up to date with everything Pro Shop and golf course related. In the sections following, you will find all the information relating to this month in golf, as well as contact information for our golf associations and our Greens Committee.
Pro Shop Hours – Open 30 minutes before the first tee time and 1 hour before shotguns. The pro shop closes at 4:00pm. Pro shop staff will carry the pro shop cell phone (520-561-1196) until 6:00. Staff are available until one hour before sunset.
Rate Periods:
First tee time: 5-1 to 5-31: 7:00am
Last tee time: 5-1 to 5-31: 6:00pm
Shotguns: 8:00/1:00 Rate Periods: 5-1 to 5-31:
Prime 7:00 – 11:52
Midday 12:00 – 1:52
Twilight 2:00 – 3:22 S
Super Twilight 3:30 – Sunset
Free Monthly Golf Clinic:
Every month Mike and Ken will conduct a free golf clinic. All residents and their guests are welcome to attend, and there is no cost. Please sign up in the Pro Shop. The staff have a book behind the counter with all the scheduled clinics that you can sign up for. You are welcome to attend as often and as many as you like! The clinics will cover basic techniques and mechanics of each topic. Our golf clinics are great for learning a new skill or brushing up a skill that needs some work. The next clinic will cover the full swing and will be held on Monday, May 22nd at 9:00 am at the driving range. Please see your Chelsea home page event calendar for the full clinic schedule.