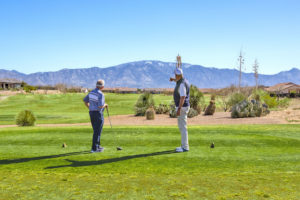 September has arrived. The 19th through the 30th we will be closed to prep the course for a winter of dormant turf. We are extremely excited about the health and density of the turf and expect great playing conditions this winter! Stay in tune with the Forecaddie to keep up to date with everything pro shop and golf course related. In the sections following, you will find all the information relating to this month in golf, as well as contact information for our golf
Pro Shop Hours – Open 30 minutes before the first tee time and 1 hour before shotguns. The pro shop closes at 4:00pm. Pro shop staff will carry the pro shop cell phone (520-561-1196) until 5:30. Staff is available until one hour before sunset.
First tee time 9-1 to 9-30: 7:00am
Last tee time 9-1 to 9-30: 5:00pm
Shotguns: 8:00/1:00
Rate Periods: 9-1 to 9-30:
Prime 7:00 – 11:52 Midday 12:00 – 1:52
Twilight 2:00 – 3:22
Super Twilight 3:30 – Sunset
A maintenance plan is put into place at the beginning of the year. Variance in weather and agronomic conditions may require changes to the schedule. September Maintenance Schedule The entire facility will be closed from September 19 to September 30 to prep for the winter. Since we will not be overseeding the fairways, carts may access the fairways when we open October 1. After a good rest and extra care from Aaron and his crew, the driving range tee is restored and ready for a busy winter. Speaking of the range tee, we will continue our program of resting the natural turf one week per month, except in December and January, when it will be rested for two weeks in those months due to the slowing of the growth rate of the rye overseed. The Bermuda turf is slowing down and will go fully into dormancy following our first frost. Please support our maintenance staff by filling divots with sand and repairing ball marks on the green. Cart traffic is highly damaging to the turf, so please limit time on the turf as much as possible. Back Nine morning nine-hole times will not be available on Monday, Wednesday, and Friday on a year-round basis to allow maintenance time to complete weekly tasks.
Every month Mike and Ken will conduct a free golf clinic. All residents and their guests are welcome to attend, and there is no cost. Please sign up in the pro shop. The staff have a book behind the counter with all the scheduled clinics that you can sign up for. You are welcome to attend as often and as many as you like! The clinics will cover basic technique and mechanics of each topic and are great for learning a new skill or brushing up a skill that needs some work. The next clinic will be in October due to the course maintenance closure. In October we will cover pitching on Monday, the 24th, at 2:00 pm at the practice chipping green.