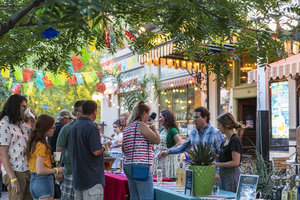 The Agave Heritage Festival is a four-day celebration in Tucson, AZ, the destination for "all things agave". Created to explore the cultural, sustainable, and commercial significance of the agave plant and borderland culture, the festival features an impressive list of events with a strong focus on sustainability. Events include seminars, agave pit roasting, agave spirit tastings, and world-class culinary events conducted by industry leaders, culinary leaders, and spirits professionals.
Exploring and celebrating the cultural, sustainable, and commercial significance of the agave across borders.
EVENTS:
Guided Tastings – A deep dive into agave with industry experts leading a curated experience through the craft, history, and culture of agave spirits.
Agave Renaissance/Spirit of Sonora Expo – Guests will enjoy Bacanora and Sotol samples, food by Tucson Tamale Company and HUB Ice Cream, live music by DJ Mizskoden and Bacanora Los Cantiles 1905, presentations, a book signing with Gary Nabhan and David Suro, vendors, an art exhibit, and various local organizations. The event is free to attend, but tasting tickets are additional.
Ignite Agave Traditions & Roasting Pit opening – Get a behind-the-scenes look at an ancient tradition of roasting agaves for food and beverage with a live demonstration of preparing the agave piñas and the roasting pit. Learn about ancient Hohokam agave cultivation methods and uses, and how agave fiber, along with many other aspects of the agave plant, has been used for cordage, shoes, and textiles. Not to mention the chance to explore Mission Garden, Tucson's Birthplace.
Go to this WEBSITE for more information: Agave Heritage Festival