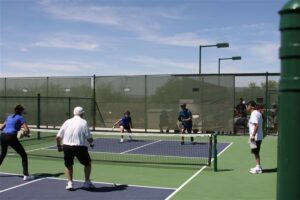 REGISTRATION FOR THE SEPT 4TH SKILLS CHALLENGE IS NOW OPEN   
Men and women will compete separately. Upon checking in, players will be asked to draw a sticker from a box. On the sticker will be a letter that indicates which group you belong to. Each group will have players of all skill levels.
The skills will consist of Serve, Return Serve, Drop Shot, Lob, and Dinking. The winner from each group will be determined by the total score earned. Prizes will be awarded to the winners in each group: first, second, and third place. Our friends at SBRanchRealty.com will provide raffle tickets for other great prizes!
                               There is no fee to participate.

             Register now so you don't miss out on the fun!
Visit the website at www.sbrpickleball.club