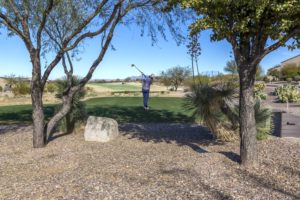 SaddleBrooke Ranch Golf Community – The Ranch Forecaddie
Golf in September 2023:
In the second half of September, we will close the course for 11 days to prep for the dormant winter season. While we still call it overseeding, only the driving range tee, chipping and putting green collars, and a few select tees are actually seeded. The rest of the time is spent edging bunkers, filling them with sand, trimming trees, edging cart paths, and painting markers and signs. In addition, the greens will also be top dressed, fertilized, and deep watered along with the fairways. All turf cutting heights will go up a bit to compensate for the flattening effect of dormancy. Except for the greens being a little slower, everything will be in top condition to kick off our fall and winter seasons! Stay in tune with the Forecaddie to keep up to date with everything Pro Shop and golf course related. In the sections following, you will find all the information relating to this month in golf, as well as contact information for our Golf Associations and Greens Committee.
Pro Shop Hours – Open 30 minutes before the first tee time and 1 hour before shotguns. The pro shop closes at 4:00pm.
Pro shop staff will carry the pro shop cell phone (520-561-1196) until 5:00. Staff are available until one hour before sunset.
First tee time: 9-1 to 9-30: 7:00am
Last tee time: 9-1 to 9-30: 5:30pm
Shotguns: 8:00/1:00
Rate Periods: 9-1 to 9-30:
Prime 7:00 – 11:52
Midday 12:00 – 1:52
Twilight 2:00 – 3:22
Super Twilight 3:30 – Sunset
September Maintenance Schedule
September 18 to 29, the course will be closed for maintenance. During this time, activities such as top-dressing, fertilization, and heavy watering are performed, as well as other tasks as time allows. The September maintenance is not as disruptive as the August maintenance week, with the focus on getting practice areas ready, topping bunkers, and cleaning cart path edges and trimming trees. The driving range will be on the mat for about two weeks after opening to allow the newly overseeded areas to mature. We will continue closing one hole per nine to cart traffic to help maintain the quality of the turf. We will also continue our program of resting the natural turf one week per month, except in December and January, when it will be rested for two weeks in those months due to the slowing of the growth rate of the rye overseed, and the heavy use of the driving range. Back Nine morning nine-hole times will not be available on Monday, Wednesday, and Friday on a year-round basis to allow maintenance time to complete weekly tasks.​